The special power supply for marine gyroscope has been successfully delivered!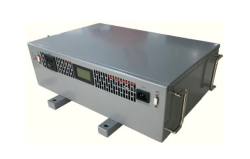 The marine gyroscope lithium battery special power supply independently developed by our company was officially delivered to Shanghai Xinyue Lianhui Electronic Technology Co., Ltd., a subsidiary of the 803 Institute of the Ministry of Aerospace, on March 26, 2018!
After the product is officially put into operation, the performance is stable and the applicability is good. The lithium battery intelligent gap charge and discharge management, real-time battery monitoring and programmable battery periodic diagnosis and monitoring technology used in the product can not only provide users with the working status and fault information of the battery pack in time, but also effectively control the charging and discharging process of the battery pack, extend the service life of the battery by more than 50%, and greatly enhance the stable, safe and long-term operation ability of the power supply system.
The successful delivery marks that the R&D and design capabilities of Shenzhen Ruishen Technology Co., Ltd. marine lithium battery power supply system have reached the leading level of the new energy ship industry!

Shenzhen Racern Technology Co., Ltd
E-MAIL:foreign@racern.com
ADDRESS:2003 Jiaanda Business Building, No. 110 Huafan Road, Dalang Street, Longhua District, Shenzhen China
Add WeChat to learn

ADDRESS:2003, Jiaanda Building, No. 110, Huafan Road, Dalang Street, Longhua District, Shenzhen
