Energy saving and efficient data center multimode UPS system
As government departments and enterprises come under pressure to reduce data center operating costs and associated energy usage, uninterruptible power supply (UPS) manufacturers are making design improvements to their technologies and products to improve operational efficiency.
Data center industry organizations such as the Green Grid Association strongly recommend that enterprises use new multi-mode UPS system technologies that operate at 98 to 99 percent efficiency, replacing traditional single-mode UPSs with 93 to 95 percent operating efficiency. This type of UPS is likely to grow significantly over the next five years.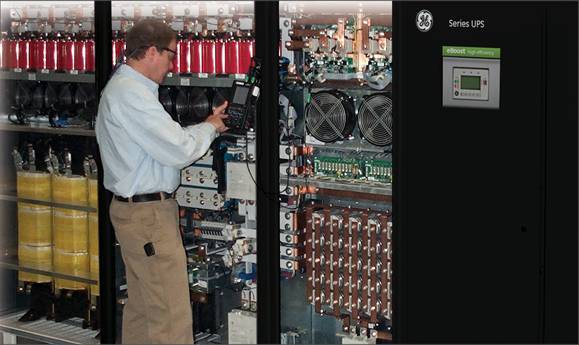 Multi-mode UPS system
What is a multimode UPS system?
Multimode UPS systems provide data center operators with the ability to choose between two modes of operation: dual conversion mode provides superior power protection, while multimode or "ecomode" provides efficient operational efficiency. When the user selects multi-mode as the default operating mode to achieve 98% to 99% efficiency, if a power abnormality is detected on the UPS input, the UPS system will automatically move to advanced protection mode in less than two milliseconds. In the U.S., power anomalies that are detrimental to IT-critical loads typically account for only 3% of business uptime, so the chance of transitioning between operating models throughout the year is likely to be minimal.
Dual conversion mode has been a typical power protection mode in large UPS systems for decades, but it also has the significant weakness of always operating in the 93% to 95% range. Today, users demand higher UPS operating efficiency and lower total cost of ownership (TCO) without compromising adequate power protection. That's the key to multimode UPS.
According to a study by Frost & Sullivan, an enterprise's 50,000-square-foot data center can save $3.1 million in costs by using a multimode UPS system over 10 years and running it in multimode mode most of the time. These costs come primarily from the reduced energy consumption of UPS systems, as well as the energy consumption of ventilation and air conditioning (HVAC) systems used to overcome heat dissipation from UPS systems. As electricity costs continue to rise, the power savings from multimode UPSs will increase over time.
Other multimode advantages besides TCO
Multimode UPS offers additional benefits in addition to TCO and reduced energy consumption. The technology provides a "smart" input power monitoring master, where the UPS will record the number and frequency of input power anomalies that cause transitions from multimode to dual-mode mode. Too many or frequent power abnormalities will cause the UPS to "lock" multimode for a period of time, allowing the power to remain stable for a period of time. As a result, multimode UPS systems can make intelligent, real-time logical decisions about when to use multimode or dual conversion modes to maximize critical load operation without sacrificing operational efficiency.
The second advantage of multimode UPS systems is extended component life. During multimode operation, many UPS module components operate in low current and low thermal ranges, resulting in extended service life. Other components, such as fans, can not run. Manufacturers of multimode UPSs expect a one- to two-year minimum life extension for many components.
The third advantage of a multimode UPS system is the mitigation of output failures. Any UPS output shorts or overloads will quickly be handled by upstream overcurrent protection devices, and there is no internal operating mode in the UPS system to adjust. These UPS output faults will be loaded directly on the source impedance of the power supply, rather than on the UPS inverter power supply, reducing fault losses.
Some UPS manufacturers, such as GE's key power business, have designed additional unique features into their multimode systems, which GE calls eBoost technology. These features include the use of line reactors in the power path in economy mode operation, which provides a level of power regulation in this high efficiency mode; Specifically, it mitigates high-frequency "surge" events and lower-frequency "ring waves," minimizing the transition to dual conversion mode. The design of this reactor also allows cable length differences of up to ±25% from multiple UPS modules to parallel output buses. This cable length difference also provides flexibility in the design of the enhanced floor layout. Some other UPS manufacturers must keep the cable length difference at ±10%, otherwise it may cause UPS power to drop or parallel UPSs to operate improperly.
The reduction in operating expenses (OPEX) for multimode UPS systems, along with the additional benefits described above, provides many compelling reasons for data center users to adopt this UPS technology in the foreseeable future. Multi-mode UPS technology should also be considered for other mission-critical and/or process-critical applications, especially for high-power applications of 225kVA and above, where energy consumption is a critical concern.

Shenzhen Racern Technology Co., Ltd
E-MAIL:foreign@racern.com
ADDRESS:2003 Jiaanda Business Building, No. 110 Huafan Road, Dalang Street, Longhua District, Shenzhen China
Add WeChat to learn

ADDRESS:2003, Jiaanda Building, No. 110, Huafan Road, Dalang Street, Longhua District, Shenzhen
